By Dee Dee Vega

Some call him "The Hedgehog," some call him the "King of Adult Films," but we say that Ron Jeremy has emerged as the most unlikely of heroes to champion our personal freedoms and First Amendment rights. Ron got into the adult business in 1978 and saw firsthand the transition from porn as the bastard stepchild of B-films, to a multi-million dollar enterprise. This former special ed teacher from Queens, New York, has not only become one of America's most well-known pop culture icons, and the most prolific adult star ever, but, when he's not engaging in more instantly gratifying pursuits, has debated everyone from feminists to fundamentalists about sex and the law and as we like to call it, the pursuit of happiness.

Ron recently sat down with fRINGE magazine to discuss our liberties, big business and, of course, sex.



It's great to meet you, Ron!
I think what put you on the map for people who don't know a lot about porn was your documentary, Porn Star: The Legend of Ron Jeremy. What stands out most to me about it is that other documentaries like the Sex: The Annabel Chong Story and Inside Deep Throat put such a nasty face on the business and yours doesn't do that.

I like so much that you said that. One of the nicest things I got from a film magazine a was reporter saying after watching all of these other documentaries people felt guilty watching a porn film, after seeing my documentary, they couldn't wait to see a porn film! It puts a happier face in the world of porn, which it should because they always slant it.

So it's safe to say that the business has treated you well?

Yes, very well. I also have an interesting relationship (to it) because I've lectured all over the world about the First Amendment, sex and the law.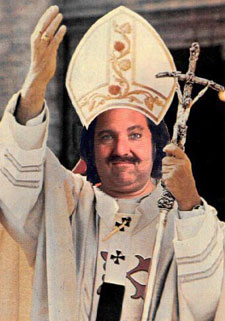 You've seen the industry go from illegal to legitimate, and now things are getting more and more conservative under Bush. Do you think we could ever go back to having more restriction in the industry again?

Yes! I could discuss this for hours. Religious folks put Republicans in power, the Faldwells, Wildmans, Jesse Helms, Pat Robertson. All the religious people back Republicans always, so when the Republicans get into office they must pay back their constituents that put them in power. They have to be against stem cell research, abortion rights, gay right and pornography. Those are the things on their agenda to get rid of. When Clinton took office it stopped and when Bush took over it started again. They went after Seymore Butts, Hardcore and Extreme. All three have pretty much won. So, they have a much harder case now. Bush's dad and Regan went after us on interstate transportation of obscene material; even magazines had a hard time. But, you see, they'll have a much tougher time because we now have the Internet; we now have AT&T, Time Warner, Sheridan and Marriott all making big money from porn. One of the biggest pornographers now is AT&T which is buying satellite channels, buying Vivid on satellite, Playboy satellite. So big business is making a lot of money and looking away from the whole moral issue. I think it's going to be harder to prosecute porn now than it was years ago.

Do you think that the positive affect of porn going mainstream is that the performers will get more respect?

That's correct.

You've recently addressed the Oxford Union. How did that come about?

I've been lecturing all over the country and Canada on the adult industry whether it be freedom of speech or sex and the law-that's the main topic, how the law is affected by porn and vice versa. So I've been doing this at a lot of Universities including Westminster College—Winston Churchill spoke there. I either do an independent lecture or I debate. I'll debate feminists like Susan Cole who's from the National Organization of Women in Canada-we get along great as friends, but we debate. I debate Michael Lahey who's a born-again Christian and a recovering sex addict. I debate him very hard. He takes the more the religious and censorship standpoint. So they are really good debates and I've been doing this all over America for the past couple years. Dublin gave me an invitation to go to Trinity College to receive a plaque from the philosophical society for affecting culture in the world, for being the world's best know adult film star, right? So they gave a plaque and I actually met John Kerry a week later back in America. So it was great. Look at the crowd I keep. Trinity College has had Salmon Rushdie, Kissinger, Senator McCain and me! Oxford University is having me. Same thing, The philosophical society is giving me a plaque, I'll do a lecture, a Q and A, a little comedy in front of a huge body of people. What makes this so special is the people who have come before me. I'm sure you saw the list, two U.S. presidents, three prime ministers, Winston Churchill, Malcolm X, the Dalai Lama, Mother Teresa…

My personal favorite!

And Ron Jeremy! How can I say no to a batch like that?

So you're definitely interested in taking a political perspective?

Somehow it's become that, it's morphed into that. It wasn't my original plan.

Porn itself has changed so much. Guys like you, Peter North, the real Woodsmen-you have a talent for more than having a big dick. You have a talent for performing. Do you think that there are guys left like you? Is that age totally over?

Yes, because now almost anybody can do it. These young guys are taking Viagra. I don't, I never have. I endorse pills for men! I get paid to endorse pills! But, I'm the first one to say, much to the chagrin of my endorsers, that it's not good to do when you're young. When you're young, you should be a walking libido looking for a place to insert! If you're taking pills at a young age, what happens in your 40s or 50s? You need five pills. These young guys in porn, I understand the pressure to perform on camera, but good Lord! I used to be pretty quick by comparison, but now I'm in the living room, on my knees jerking waiting for a big scene and some guy comes out of the bathroom, like "Boing! What the hell? Look at that damn thing!" The days of the Peter Norths and the Randy Wests and the Roccos are pretty much over, at least not what they use to be because anybody can do it.

I would say there have been a lot of changes to the women in the industry too. Do you have favorite women to work with?

Tabitha Stevens, Christy Canyon, Taylor Wane, Teri Weigel, Gina Fines…Tabitha Stevens first and foremost. They always say go with a new face; the one you haven't worked with yet is the one you want. Girls say the too. The girls are getting prettier as the years have gone by. The industry is saturated. There are more girls than there are jobs. People see how much money you can make. It's a big business. You have Jenna Jameson who put away five million dollars, girls on contract making a quarter of a million dollars a year. Girls are seeing this and they can also be very selective. With the girls getting prettier, comes more selectivity. Some only work with their boyfriends, some do only girls. A lot of them run their own companies now.

As far as your private life goes, do think you still have the same sex drive for women?

I think so, what do you think? (Ron laughs devilishly) No, I'm the same. Guys don't tend to change much. We're a bunch of dogs. Guys don't get jaded. We can have sex, sex, sex and we still want to have sex, sex, sex. Rock stars are the same way. I see these rock stars get more girls in a day than I'll get in a year! They have big social lives. Girls wear kneepads to concerts. Women can sometimes get jaded a little bit. Girls in the sex business, whether it be the brothels of Nevada or porn films, they are often getting all the recreational sex they really want. They want to make love or get paid. They don't want the in between. Men like the in between. Girls are usually not looking for the fun quick thrill of a nice penis.

AVN called you the #1 porn star of all time in the world.

It's a nice honor. In the world! Me first, Jenna second, John Holmes third.

How much of that do you think has to do with your staying power?

It's not so much staying power, it's the cult. The thing about fame is it feeds itself. The more famous you get, the more famous you get. It's a vicious cycle. It feeds itself. The more you're known, the more people talk about you, the more they talk about you the more known you get. What really helps is not so much staying power, although that's a large part of it. It's being in fourteen music videos, having bands write about you, having Jay Leno make jokes about you at night and playing your TV commercial. It's being in 68 mainstream movies, some A-list, HBO specials, appearances on television. All these things make you a pop icon and the more you do it, the more you do it and the more you're invited to do it. And the more famous you get the more famous you get. If I had just done porn like Peter North or Randy West you can get famous as a porn star, but you're never going to reach pop icon status. You need to break out of just the porn. That would have just made me a better porn star. Jenna would have dwarfed me if all I had done was porn.

With that in mind, I guess a large part of your massive celebrity comes from you being in the mainstream and in the business.

100% I like to think of myself as an ambassador of goodwill from the world of porn!